What, you may ask, is a spiced hermit?? It is actually a delicious little chewy dessert bar or cookie. I found a recipe for them recently and also learned about their curious history. Apparently, in colonial times, sailor's wives made spiced hermits as a going-away treat for their husbands when they were leaving port and going out to sea. The chewy spiced treats were sealed into tins and would keep for several weeks this way. Because they were kept sealed in the tins, like their own 'home', they were nicknamed hermits.
The recipe sounded similar to molasses cookies or gingerbread, and I thought it would make a delicious autumnal treat and even a good one for the Christmas holidays as well. In some recipes they are made like cookies, in this one, they are cut into small bars. An added twist to the spiced hermit is the addition of 3/4 c of chopped candied cherries.
Spiced Hermits

Ingredients:
2 c flour (plus a little extra)
3/4 tsp ground cinnamon
3/4 tsp ground ginger
1/2 tsp ground nutmeg
1/8 tsp g
round cloves
3/4 tsp baking soda
3/4 tsp baking powder
1/2 c butter (1 stick) at room temperature
1- 1/4 c packed light brown sugar
1 large egg plus 1 egg yolk
3 tblsp old fashioned molasses ( not blackstrap)
1 1/2 tsp vanilla extract
3/4 c finely chopped walnuts
1/2 c dark raisins or currants

For egg glaze:
1 egg, beaten with 1 tsp water


Get out 1 or 2 large heavy cookie sheets. (Just one sheet will be in the oven at a time, but having two sheets will streamline the baking). Cut a piece of parchment paper to fit each cookie sheet, then cut those in half, lengthwise. You should end up with 4 rectangular pcs of parchment.
Heat oven to 375 degrees.
Sift flour, all of the spices, baking powder and baking soda into a medium-sized mixing bowl and set aside.
In a separate large bowl, use an electric mixer for a few seconds to soften the butter. Add the brown sugar to the butter roughly in thirds, beating at medium-high for 1 minute after each addition. Add the egg and the yolk and beat another minute. Add the molasses and the vanilla and beat for 1 more minute, until the batter is smooth.
Using a wooden spoon, stir in 1 cup of the dry ingredients into the creamed ingredients. Stir in the walnuts and raisins/currants. Add the remaining dry mixture a half cup at a time and stir after each addition. The dough should end up very dense and hard to stir. If it seems too soft, mix in another 1-2 tblsp of flour. Turn out the dough onto a floured surface and divide into 4 equal pieces.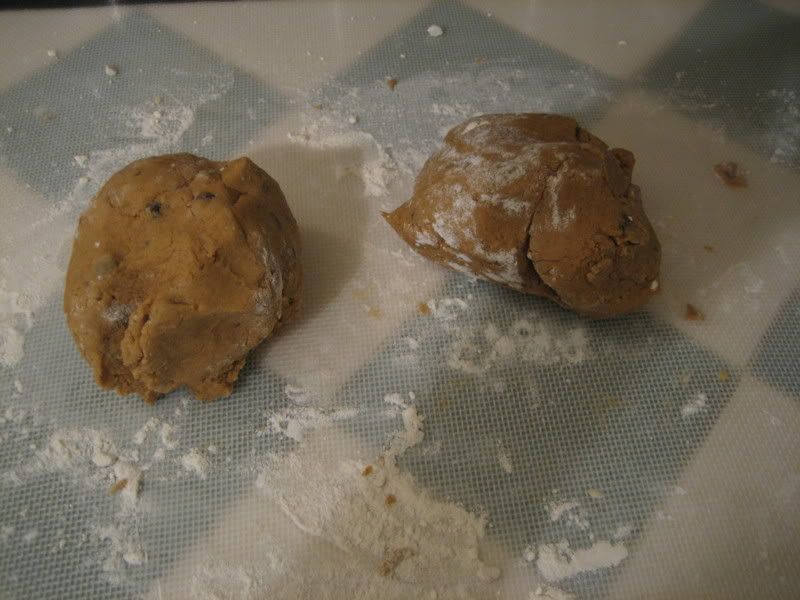 Here is two pieces of the divided dough. The dough smells very much like gingerbread.
Working with well floured hands, roll the first ball into a log about 12 inches long. Place the log onto one of the pieces of parchment. Place the log lengthwise onto the cookie sheet, leaving room for a second one beside it. Slightly flatten the log into a rough rectangle so the dough is about 3/4 inches thick and 1 1/4 inches wide.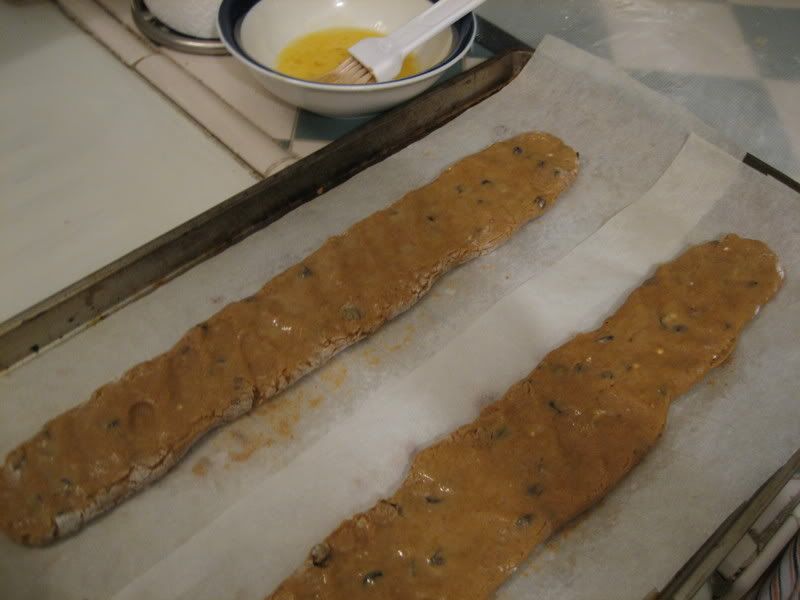 Here are 2 logs on a cookie sheet, flattened and glazed with the egg glaze, ready for the oven.
Repeat the rolling steps for a second piece of dough, then use a piece of parchment to place the 2nd log on the cookie sheet (as picture above.) Also slightly flatten the second piece. Using a pastry brush, paint both bars with the egg glaze. This will give the bars a nice, shiny finish.
Bake the bars in the center oven rack for 11-12 minutes. (I baked mine for about 14 minutes since my oven seems to take longer to cook things.) While the first set are cooking, prepare the other two pieces of dough like the first ones and place them on the second cookie sheet.
When the bars are done baking, they will have flattened out somewhat. They might seem a little squishy and underdone, but that's okay. They'll continue to cook a little longer and will get firmer as they cool.
Place the baking sheet on a cooling rack and let cool for about 10 minutes. Then, lift the parchment pieces with the cooked bars and place them onto a large cutting board.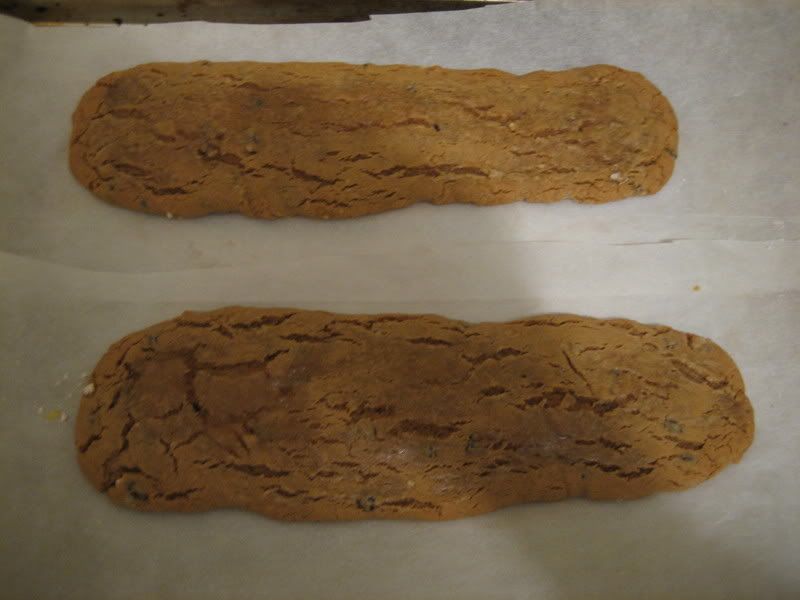 Baked bars, before cutting.
While the bars are still warm, cut them into 1 1/2 inch wide sections with a pizza cutter or a sharp, serrated knife. Cool the hermits thoroughly, then store them in an airtight container.
Makes about 32 hermits.
Spiced Hermits, cut into pieces and ready to eat!
Mangia!